Below are some products that I have written/recorded myself.
If you are attending any of my events, you are welcome to bring your book/CD along for me to sign!
PLEASE NOTE:
Postage – due to recent postage increases I sadly have to start charging P&P:
UK Next Day Delivery with Tracking for Holistic Well-being: A New Paradigm Shift is £3.50
Still FREE UK shipping on my Inspiration book and Meditations CD (when they are bought without any other items)
Overseas: flat rate of £8 Economy and £15 Tracked Air Mail (you are welcome to email me for a quote in case I can send for cheaper)
My Little Book of Inspiration

A pocket-sized book of 142 pages offering you inspiring pearls of wisdom, positive affirmations and a few inspirational stories too! This little book is aimed at anyone wanting to bring a little more positivity into their lives, and to affirm that they already have the answers. There are separate sections for Pearls of Wisdom and Positive Affirmations, with one to a page, and also included is the Daily Blessing.
It includes ideas on how to use this book such as incorporating it into a daily practice, and some inspirational stories to help inspire you. There is also an overview of Dr Hamer's 5 Biological Laws of Nature, which are suppressed biological truths upon which this book has been based. This Little Book will help and inspire you to make positive changes in your life.
Feedback so far:
"Well… I thought I'd flag up every page that meant something to me… I ran out of paper and had to resort to coloured tags! I think you wrote this book for me! Usually, I'd connect with a handful (at most) of wise sayings but this is really life-affirming wisdom!!! So, well done you!" -L.B. Halton
" It's such a beautiful book and wonderful to have practical resources like this that are consistent with GNM" – M. Jones
Paperback Edition:
ISBN: 978-0-9575952-5-5; PUBLISH DATE: 12th May 2021; FORMAT: Paperback; PAGES: 142; SIZE: A6;  PRICE: £5.95 (free UK P&P)
TO ORDER PLEASE CLICK:
---
Holistic Well-being: A NEW Paradigm Shift (Nourish your BODY, Free your MIND, Awaken your SPIRIT) THIRD EDITION
**May 2023 – The 3rd Edition has had some minor edits and revisions (though not enough to warrant a 4th Edition!)
A comprehensive and common-sense guide to Nutrition, Natural Health and Holistic Living covering a candid view of many controversial subjects. Now re-written throughout with the Wisdom of the Biological Laws of Nature (also known as German New Medicine), making it ideal to help you integrate the Biological Laws into your life and current beliefs with a deeper understanding.
The Third edition is over 500 pages and contains 92 chapters (5 additional to the first edition) on subjects from nutrition to logical thinking, from Yoga to spirituality. It attempts to cut through mainstream corporate health propaganda which makes looking after our own health so confusing. In addition Danielle offers a balanced and common sense approach which helps to find balance between extremism, focusing on what she believes is really important.
"Holistic Well-being: A Paradigm Shift is a culmination of over 15 years of research into all aspects of our well-being. It therefore covers a comprehensive range of subjects that will help you to empower yourself to find health for body, mind and spirit with incredible attention to detail. The well-researched and competent advice covers everything from simple nutrition and eating habits to avoiding toxins in everyday life, from Yoga to logical thinking, this book will assist you to live holistically, ethically and in balance.
The Third Edition has been extensively edited to reflect Danielle's research into the Biological Laws of Nature, the science of which is truly astounding and undeniable, and has caused Danielle to unlearn much of what she previously believed. Through this paradigm shift, Danielle has retained her common sense approach, and she assists the reader in understanding this empowering knowledge throughout the book.
This information may help people to understand how the Laws may affect their beliefs and lives, not only on a daily basis, but also when we are faced with biological programmes (known as diseases). This includes natural therapies, substances, remedies and self help, all of which complement and support the body. She gives clear explanations on this new perspective to help you to understand why some things work and some things don't.
Danielle's awareness of political agendas, sensitive subjects and personal experiences help the reader to understand how we can empower ourselves against the corruption and fear propaganda surrounding mainstream health advice and attacks on our logical thinking and spiritual well-being, all of which we are subject to in our everyday lives. She explains that we do not need to take extreme views on these issues and how we can find a healthy balance for ourselves and our loved ones.
This book is like no other, and is essential reading for the well-being of you and your loved ones, whether you are a natural health novice or even an expert, providing little-known science and giving an entirely different perception on what we thought we knew!"
The book includes 28 images, many of which are by brilliant political artist David Dees.
The book is split into 11 sections:
Nourish your Body, Nutrition & Supplementation, Detox & Body Cleansing, Avoiding Toxins in Everyday Life, Natural Remedies, Common Conditions & Diseases, Holistic Therapies, Physical Exercise & Yoga, Free your Mind, Awaken your Spirit, Conclusion/Connecting the Dots
The book is designed to be read through in its entirety at least once, and then it becomes a helpful reference guide with aromatherapy recipes, details of essential homeopathy and Bach flower remedies, how to muscle test, a complete guide to fallacies, a mini crystal directory, a list of essential vitamins and minerals including signs of deficiency and much more!
Some Feedback received:
"I am look forward to getting the next edition (your last book felt like being with a caring friend that wanted what's best when I was reading it, and it helped me a lot last year)" – Yvonne
"The overall feel of the book is one of love, compassion, hope and self-empowerment. It will bring light to anyone who is searching for alternative healing. I will certainly treasure it as a valuable reference book." Marion, Swansea.
Paperback Edition:
ISBN: 978-0-9575952-4-8; PUBLISH DATE: 22nd February 2020; FORMAT: Paperback; PAGES: 518; SIZE: A5; ILLUSTRATIONS: 28 b/w images; PRICE: £14.95 (£3.50 UK P&P)
TO PURCHASE PLEASE CLICK:
Here is a promotional video for my book:
---
Meditations for Yoga CD
Guided meditation CD written and recorded by myself, containing 6 guided meditations inspired by Yoga and Mindfulness.
The first meditation is full descriptive guidance on the Savasana posture (also known as Corpse Pose) which is considered the most beneficial posture f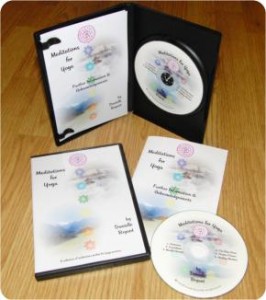 or meditation and for allowing the muscles to recover after practice. Using your CD programme feature you may play this before your chosen meditation without interruption.
The other 5 meditations are each approximately 15 minutes long making them ideal for the relaxation and meditation part of your Yoga practice either in class or at home.
If you do not practice Yoga, you may still benefit from this CD as the length of the meditations are perfect for beginners.
Track Listing:
Savasana – comprehensive guidance on entering Savasana
Countdown – count down from 10 to total relaxation
Mindful Breath – including a track specifically formulated to relax your breathing and heartbeat
The River Boat – send your worries and cares down the river!
Chakra Flowers – healing through the Chakras
Healing Meadow – your own sacred healing place in the meadow
Click here to download a small sample of the introduction to the Chakra Flowers track (it should open in your default audio player)
Total running time approximately 74 minutes.
PRS-FREE so you do not need a licence to play this CD publicly or in a class!
EAN no: 5-060250-420398
Cost: £7.95
P&P: FREE
TO PURCHASE PLEASE CLICK:
FRAGILE MINDS E-BOOK
Here is a free download of a research booklet by Olwyn Rhyddid who has used some of my writing by permission.
CLICK HERE TO DOWNLOAD: Fragile-Minds-by-Olwyn-Rhyddid
---
Please note: If you attend one of my talks, book launches, visit my shop or see me at an event I can offer my CD & books at reduced prices and bundles!